WAYLANDS COUNTRY HOUSE - the Manor House
Be poised to be overwhelmed by the breathtaking mountain vistas.

Rich with the memorabilia of its history the elegant Art Nouveau Manor House was built by James Joseph Edwards in 1927. In impeccable original condition it boasts the finest workmanship and attention to detail with it's imposing reception rooms panelled in Burmese Teak.

In addition to a large Drawing room & Dining Hall, the red Smokers Lounge is the relaxed centre of the house where guests can enjoy the large open hearth fires which bolster us against our crisp winter nights. Luxury Country House Accommodation is provided in the sumptuous Master Suite with private lounge and romantic en suite bathroom with its original rare Linware tiling and fixtures. There are three additional luxury double bedrooms in the Manor House.

Waylands rates from R1200 per person and includes an extensive breakfast , a three course dinner and all teas and coffees. Meals are served in the historic Carriage House building within the Waylands precinct.
BOOKING THE MASTER SUITE AND ONE ADDITIONAL ROOM INSURES YOUR GROUP THE COMPLETE MANOR HOUSE TO YOURSELVES.

NO OTHER GUESTS. COMPLETE INDULGENCE AND PRIVACY !!!
The large farmhouse kitchen and pantry discretely serve the needs of guests during the day.

There is a fully stocked honesty bar , fine wine selection and homemade health rusks to tide guests over between meals. Two expansive verandas with their spectacular uninterrupted views into the vast African landscape, add to the sense of indulgence and privacy.
"Waylands echoes distinctive charm and attention to detail. Colonial luxury at its best."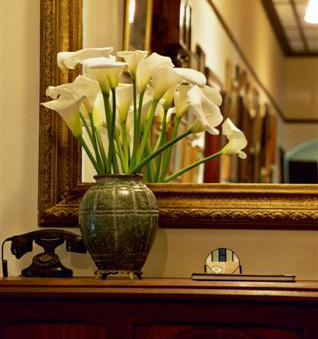 HARTEBEESTFONTEIN FARMHOUSE - CATERED
Child (6+) & Pet Friendly
The Victorian homestead dates back to 1890 and with its generous living rooms and open hearth fire has all the charm of an old colonial farmhouse from another era. The house is elegantly furnished and well appointed for your convenience. It has two double bedrooms with quality matrasses and bedding, each with its own bathroom. The kitchen is set up for serious cooks has modern appliances, gas hob, electric oven, fridge freezer and scullery.

TV with DSTV access.

The house has its own secluded braai area, Zen garden with outdoor shower.

The large hearth in the lounge and the Victorian fireplace in the sitting room are both operational and can be used by guests.

If the Fully-Catered option is requested the meals are served in the historic Carriage House building within the Waylands precinct. Hartebeestfontein Farmhouse is set within its own well fenced private garden and the old homestead and its garden adjoins the extensive gardens and utility buildings surrounding the Manor House
HARTEBEESTFONTEIN FARM HOUSE has it has its own (dog secure) private garden, separate access and parking.
It's peaceful and private situation invites some visitors to the farm the opportunity to stay in their own separate luxury self contained house within the gardens of the Manor House which is pet friendly and accepts children over six years of age by arrangement.
Laundry can be done at additional cost
House accommodates 4 people
Using this site means you accept its
terms
| Copyright © 2020 Waylands Country House, South Africa
| website by