Malaria-free MPOFU GAME RESERVE is situated near the secret site of Chief Maqoma's Kraal. It is a mere 20km from WAYLANDS. Its steep terrain and varied rainfall supports a remarkable variety of animal and plant communities. Four biomes are represented here. The African savannah blurs into the extensive tracts of indigenous forest on the slopes of the Katberg Mountain. 7500ha in extent it lies between Fort Beaufort, Post Retief & Balfour.

It offers excellent opportunities to see a diversity of game such as large breeding herds of Cape buffalo, Burchell's Zebra, Eland, Giraffe and White Rhino.

Wildlife at Mpofu include Leopard, Black Backed Jackal, Black Wildebeest,Blue Duiker, Bushbuck, Bush pig, Chacma Baboon, Common Springbuck, Genet and much more. The easy access from Waylands allows guests to Self drive through the beautiful reserve weather and vehicle permitting !

Waylands own Game Species and unique Flora

Waylands is set in pristine nature within the protection of the POST RETIEF NATURE CONSERVANCY . The farm boasts a wide range of game such as Kudu, Bushbuck, Waterbuck, Mountain Rhebuck, Duiker, Gruisbok, Warthog, Aardvark, Cape Clawless Otter, Honey Badger, Civet Cats, Lynx, Jackal, Black Eagle, Cape Eagle Owls etc.

The different biomes on the farm allow different varieties of unique or rare flora to exist and survive. The Katberg which is part of the farm has well established colonies of rare Mountain Bamboo
malaria-free Mpofu Game Reserve
Luxury swimming pool
2 San rock art sites
Tennis
Hiking on our 1100ha estate
Post Retief military fort 1836
Historic sites – 6 national monuments within a 10km radius of Waylands
Trout fishing and Access to well known THRIFT DAM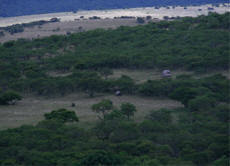 Our sandstone-lined, salt-chlorinated swimming pool offers the ultimate swimming experience. The classic design and extra length maximises swimming pleasure and allows for lap training. Set in a private section of the gardens and surrounded by mountain vistas, the splendid pool receives generous sunlight throughout the day .

Escape the bright sunshine in the old Bivouac set into a small forest above the pool and water furrow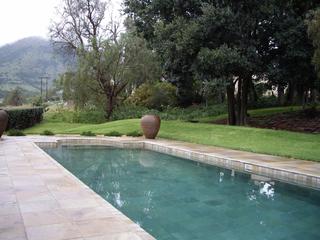 Tennis can be arranged on four all weather tennis courts at our local Post Retief Country Club. Our community plays tennis on Wednesdays and Saturdays and always welcome extra players on these days.
The pristine estate covers 1100ha of awesome mountain landscape which offers many hikes to suit all degrees of fitness.
Our own farm dam is stocked with rainbow and brown trout. We are close to more challenging trout waters like THRIFT DAM.

WAYLANDS has two impressive sites of early rock paintings bearing testimony to the earliest inhabitants of this precious abundant land. The ancient monochrome paintings predate the later rock art which had a greater variety of natural pigments.

Early colonial graffiti, albeit regrettable, spans almost two centuries and is also of interest and historical significance.
Using this site means you accept its
terms
| Copyright © 2022 Waylands Country House, South Africa
| website by